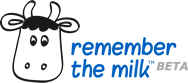 Remember The Milk is a good free service online to rember your to-do list. You can create as many different lists as you want and schedule tasks in real English such as "next month" or "Tuesday 9AM".


In Remember the Milk, interface is fast and clean and very intuitive to use. Highly recommended. Multilanguage supported!

Some Key Features Remember The Milk:

* You can add tasks via email.

* You can access your tasks with any application that supports the iCal format.

* You can receive your lists via Atom feeds.

* Receive reminders via email, SMS, AIM, Google Talk, ICQ or MSN

* Color-coded priorities

* Time estimates

* A simple "Postpone" option, to add a day to a task

* Repeating tasks

* Unlimited notes attached to any task

* Archiving

* Print your lists

Free Sign Up Required.